Alerter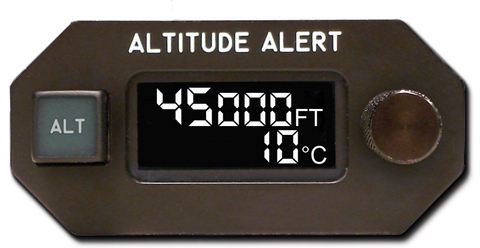 The IS&S Alerter provides two user selectable operating modes: Altitude Alerting, both audio and visual, to annunciate conditions of approach to and departure from a user selected altitude, and Minimum Descent Altitude (MDA) alerting to indicate approach to a minimum altitude. The indicator also provides display of Static Air Temperature (SAT) or Cabin Altitude as determined by a pressure transducer integral to the alerter.
Baro-corrected altitude (Hbc) and SAT are normally received on an ARINC 429, data bus from a Digital Air Data Computer (DADC). Should this input fail, a data link from the First Officer's (F/O) altimeter can be installed to provide back-up Hbc enabling continued operation. Mode of operation, and the last selected MDA and Alert altitudes, are retained in non-volatile memory during power down. Reliability per MIL-HDBK-217 is over 26,000 MTBF Cat. AIC.
Features
Three different types of warnings when sensed cabin altitude is at or above 10,000 feet (3,000 meters).
Baro-corrected altitude and SAT data from DADC via ARINC 429.
Audio and visual alerts.
Two user-selectable operating modes.
For OEM and retrofit installations.
Benefits
Gives early warning of potentially dangerous cabin altitude and pressure conditions.
Off-the-shelf, fully RVSM compliant solution.
Field-proven on all aircraft that require cabin pressurization.
Suitable for military, air transport, and general and business aviation.
New design with supportable components.