ADS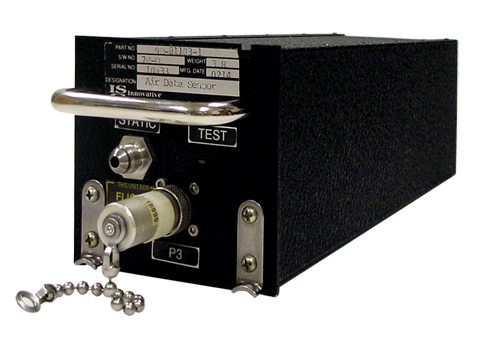 Technical Overview
The IS&S Model 9B-81103-1 Air Data Sensor (ADS) replaces the Rockwell Collins 590A- 3H/3J/3K/3J1/3K1 Air Data Sensor as either a form/fit/ function replacement unit, or as part of a more comprehensive Reduced Vertical Separation Minimum (RVSM) compatible air data system upgrade. This upgrade includes the IS&S Model 9D-80130 Air Data Display Unit (ADDU). In both configurations the ADS utilizes the same tray and aircraft mating connectors as the displaced Collins 590 unit. The ADS operates the same in both configurations, relative to the flight control system interface and operation.
The ADS supplies an analog error signal to the flight control system (FCS) that is proportional to altitude HOLD error, vertical speed HOLD error, Mach HOLD error, Indicated Airspeed HOLD error, or preselect altitude error that is used by the FCS to ascend or descend to a preselected altitude. True Airspeed, Indicated Airspeed, and Altitude programming voltages are also supplied to the flight control system.
Reliability and Maintainability
Long-term supportability due to modern design.
Two-year warranty.
MTBF 20,000 hours.
Features
Form, fit and function replacement for obsolete Collins – 590A Air Data Controller models:
622-4393-0XX
622-4394-0XX
622-1001-0XX
792-6672-0XX
622-3204-0XX
Approved letter of equivalency from OEM of 590A – no certification effort required.
Embedded solid-state transducer.
Added functions over and above 590A:
PIN programmable with aircraft configuration memory module.
Applications
All aircraft currently using Collins P/N (-590A Air Data Controller – includes 590A-3H, 3J, 3K, 3J1, 3K1 series).
Civil, military and business aviation.
Qualifications
DO-160D Environmental Qualification
DO-178B Level B software
FAA TSO, C106, 52A, C9C
Letter of equivalency from the original 590 OEM
HIRF > 100 volts/meter
Benefits
Plug and Play Replacement for Collins – 590A Air Data Controller.
Integrates easily with IS&S RVSM ADDU architecture, including SSEC data.
Outputs required Altitude Hold to Auto Pilot (RVSM).
With IS&S ADDU, provides certifiable RVSM solution for many aircraft types.
Weight savings.
Solid state SMT design.