King Air NextGen Flight Deck and Autothrottle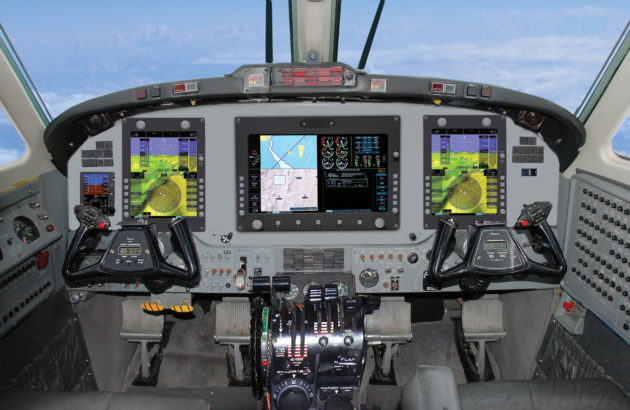 The NextGen Flight Deck is an advanced avionics suite containing three LCD displays (2 x 10.4" PFD's and 1 15" MFD), Integrated Standby Unit (ISU), PT6 Engine Data Concentrator Unit, an autothrottle upgrade kit (Patent Pending), two Beta-3 GPS units, integrated dual flight management system supporting RNP and LPV approaches.  Additional configuration options include an ADAHRS upgrade and iPad Control of system functions.  Integrates with legacy avionics equipment allowing the operator to keep existing COM/NAV radios, and provides support for ADS-B and other NextGen equipment components.
The Flight Deck integrates information including: charts, maps, airspace depiction with low and high vector routes, SVS, EVS, patented zooming feature, satellite weather, engine instruments, electronic checklists, RAIM capability and dual SBAS GPS receivers in support of the FMS with LPV approach capability.  The end result is a integrated avionics suite providing unrivaled situational awareness, enhanced safety and operational performance.
The IS&S Turboprop Autothrottle allows a pilot to automatically control the power settings of the engine.  The Autothrottle computes and controls appropriate power levels and features an automatic take-off and go-around mode that smoothly brings the turbine engine to max power in a few seconds.
The Autothrottle includes two other major modes; the torque hold and airspeed hold modes, where the pilot selects the desired torque or desired airspeed.  At all times and regardless of the mode, the system protects the aircraft from over and under speed as well as protects the engine from over torque or over temperature.
When engaged by the pilot, the Autothrottle system adjusts the throttles automatically to achieve and hold the selected airspeed guarded by a torque/temperature limit mode.  If the pilot manually adjusts the power level and approaches torque or temperature limits the Autothrottle will warn the pilot with a built-in throttle handle shaker system.
The Autothrottle's Engine Out Thrust Control will automatically adjust the remaining engine power if the airspeed falls below minimum-control airspeed Vmc.  The pilot can maintain control as the autothrottle mitigates the adverse YAW allowing the aircraft to safely accelerate under full control.